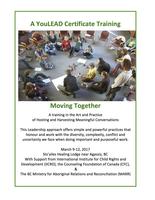 Thursday, March 9, 2017 - 4:00am

to

Sunday, March 12, 2017 - 12:00pm
IICRD's YouLEAD program will be hosting an ART of HOSTING training for YouthWorkers and Practitioners from March 9th to 12th 2017 at Sts'ailes Lhawathet Lalem; a renowned retreat facility near Aggisiz. Being held by facilitators Pawa Haiyupis and David Stevenson on Sts'ailes traditional teritory, it promises to be a rich learning opportunity that we are able to offer free of charge due to the generous support of Counseling Foundation of Canda and the BC Ministry of Aboriginal Relations and Reconciliation.
The focus of the training will be exploring tools and ways of being that transform conflict and promote reconciliation.
Information to Download

AoHinfoPackage2.17.pdf