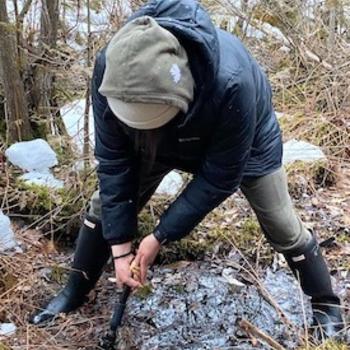 Photo: Youth dig geo-caching sites in G'Chimnissing, as part of COVID-19 response to connect to the land and culture through the pandemic
"We are helping young people to see how they can change the moment they are in...because the medicine bag is really within all of us to grow through this pandemic." - Justin Young (Thunder Sky)
COVID-19 and related public health measures have urgently and seriously exacerbated long-standing issues of social isolation and cultural disconnection issues among Indigenous youth.
At the same time, access to cultural teachings and medicines can serve as an important protective factor to support youth and families to navigate these challenging times. The Making My Medicine Bag project builds on community partnerships to foster safe spaces and to create tools for youth to maintain their right to culture through emergencies. IICRD's Justin Young (Thunder Sky), Sarah Sandy, and Elaina Mack are facilitating this project in Secwépemc/Kamloops, British Columbia with Lii Michif Otipemisiwak Family and Community Services and in G'Chimnissing/Christian Island, Ontario with Beausoleil First Nation.
In G'Chimnissing, the project is focused on connecting youth to places to strengthen a sense of belonging to our home and the land itself. Through an innovative geo-caching project, working together with an Elder, our community-based youth worker and youth leaders identified potential sites on the Island with historical, cultural, or environmental significance.
"There are so many directions this project could go," reflects Sandy in G'Chimnissing. "Youth have selected a spot from each of the four directions, to begin with." As the project unfolds, youth are building on what will go in the Caches. There are stories that share language and stories that connect our families together and stories that connect us to the land, wind, and water. It is also sparking some other digital mapping initiatives. It is turning into an ongoing project guided by youth."
The focus of the project in Secwépemc/Kamloops is to support youth to think about what medicine means to them - what it looks like, where it can be found, why it helps, and how to share the medicine with others.
"During our bonding fire, a COVID-safe gathering on the land, we asked the youth to find objects and then tell us how it gave them medicine. One youth showed us 'snow' as it represented play and stories for them. Another found a walking stick to share how it helped to support them and make new paths for others. It was beautiful to hear what medicines the youth picked and how it made them feel."
The Making My Medicine Bag project is funded with support from the Huronia Community Foundation and the United Way of Thompson Nicola and Cariboo. Both grants were received through the Government of Canada's Emergency COVID-19 response fund.