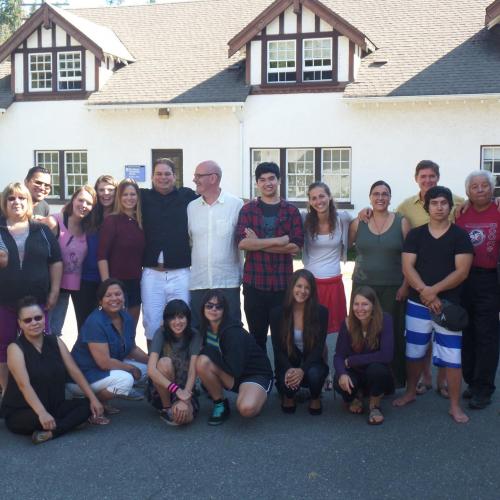 YouLEAD Canada and YouLEAD International are innovative youth leadership, skills and employent training programs of the IICRD. These programs are for young leaders (15+) and also youth workers, training them to support the wellbeing of children and youth.
This includes a strong emphasis on empowering Indigenous youth, with traditional and new ways of learning. First came IICRD's 20+ years of projects in international child rights, child protection, and community capacity building, leading to our online Learning Hub. Then YouLEAD Canada leadership and skills training was initiated, with growing engagement of Aboriginal young leaders, youth workers and Elders. Then IICRD initiated YouLEAD International, starting in Chad and Burundi.
YouLEAD Canada COORDINATORS: Sarah Sandy, Chancellor Amos and Sabrina Bonfonti
YouLEAD International COORDINATORS: Armel Oguniyi, Jean Sewanou and Dr. Laura Lee
PARTNERS: Advisory group of Indigenous youth, B.C. Aboriginal Youth Workers Network, Ilosiwaju Africa, and Institut Africain pour le Developpment de la Famille (Benin)
FUNDERS: The Counselling Foundation of Canada, BC Ministry of Aboriginal Relations and Reconcilation
FOCUS of YouLEAD: to support Indigenous and other young leaders and youth workers to develop culturally grounded self-awareness, relevant knowledge, tangible skills, and accountable action. Four levels of engagement and training are offered, which can increase employability and prepare participants for further education as needed:
1. A community of practice: through IICRD's Learning Hub (see www.iicrd.org to join), to network and share ideas on leadership and how best to support child, youth, family, and community well-being;
2. Youth Skill Recognition Stamps: delivered in partnership with community-based organizations and employers, to acknowledge the development of leadership skills and other capacities that support child, family and community well-being and culture, and acquired knowledge and self awareness
3. Certificate Courses of intensive training (see below): on the land with Elders and in the classroom, for young leaders and youth practitioners to develop and enhance knowledge, skills, and professional practice; and
4. Post-secondary opportunities at the Bachelors, Masters, and Doctoral levels: through directed studies and capstone projects focused on leadership or child protection in development. These are currently offered in co-operation with Royal Roads University (RRU).
YouLEAD / CPID INTENSIVE CERTIFICATE COURSES since 2013 (in addition to webinars/other training; email michele.cook@iicrd.org for upcoming):
* March 9 - 12, 2017: Hosting Meaningful Community Conversations (Sts'ailes Lhawathet Lalem, BC)
* November 3 – 6, 2016: Holistic Facilitation Skills/Facilitation Lab (Pender Island, BC)
* June 23 – 26, 2016: Journey 3: Becoming an Inspired & Transformed Youth Leader/Practitioner (Pender Island)
* March 10 – 13, 2016: RAP to Grow Restorative Practices with Young People (Terrace, BC)
* November 26 to 29, 2015: Creative Approaches to Engaging Young People, Levels 1 & 2 (Kamloops, BC)
* June 4 to 7, 2015: Journey 2 – Becoming an Inspired & Transformed Youth Leader/Practitioner (Pender Island)
* May 2014 to September 2015: Participatory Research Methods with Children, Level 1 (Chad, Africa)
* August 23 – 26, 2014: Creative Approaches to Engaging Young People in Social Change (Royal Roads University)
* February, 2014: Strengthening Child Protection in Community – An Evidence Based Approach (Royal Roads)
* 2013: Journey 1 – First YouLEAD/ CPID Certificate Course for Youth Practitioners (Liard Springs, BC)
YouLEAD QUOTES FROM PARTICIPANTS:
"This was a great learning experience for me… it made me realize many strengths I did not see in myself beforehand."
"Getting to know the Circle of Rights approach and applying it to a fictitious case study showed me the potential of understanding complex situations and how they are best approached - by leading with children, starting from strengths, and engaging with partners."
"Conclusions cannot be made until you have listened to and understood the perspective of the child."
"Thanks for making me feel at home, with a sense of belonging."
"I loved all of the tools that encouraged problem solving and team work."
"My expectations were exceeded by the depth, innovation, and quality of course content, and facilitation."
"I am re-inspired to try new tools and to trust that the work is helping the youth in our community."